Pompeii, Herculaneum and Mount Vesuvius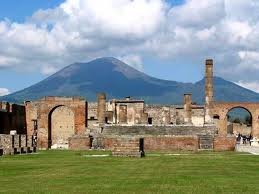 This day excursion is designed for those who wish to enjoy the highlights of Sorrento, the archaeological site of Pompeii* and the island of Capri.
After you are greeted at the Port of Naples/ your Hotel you will make your way to the ruins of the ancient Roman city of Pompeii, part of an ancient Roman city destroyed and buried by the eruption of the volcano Vesuvius in 79 A.D. can be visited during this tour. The remainder of the uncovered city is today buried under the new Pompeii rebuilt many years subsequent to the eruption. Archeological excavations are open to the public between the hours of 09:00 and 18:00 every day of the week, guides can be hired at the entrance or headphones can be rented, voicing explanations of the sites. Please note that since Pompeii is a popular area for tourists, we strongly recommend being cautious of your belongings!
Herculaneum is an ancient residential town of Greek origins, destroyed and buried in ashes, together with Pompeii, by the eruption of the volcano Vesuvius in 79 A.D. that also offers a variety of beautiful scenery and invaluable arts. Excavations began by accident in 1709 when some workers were digging a well – they discovered a wall which was later found to be one of the stages of the ancient theatre. Later, there were many human skeletons uncovered at the ancient shoreline, suggesting that numerous inhabitants attempted to escape but perished when mountains collapsed and volcanic gases were released.
Thousands of prosperous citizens would have sought comfort in the majesty of Mount Vesuvius and regarded it as nothing less than a gift from the gods. In those days of abundant plenty, no Neapolitan would have anticipated the hidden threat of their beloved mountain that erupted violently during the morning of August 24, AD 79, unceremoniously removing all surrounding cities within a radius of Vesuvius, from the face of the earth. Since then, Vesuvius has erupted about three dozen times. The most recent eruption from 1913-1944 was thought to be the end of an eruptive cycle that began in 1631, however unpredictably the last eruption of Vesuvius was on 23 November 1980, that killed over 3,000 people. View the crater of Vesuvius, 1281 meters above sea level, by walking for approximately 45 minutes up the steep mount, as the road for vehicles terminates half way up this climb.
Book now your Pompeii Herculaneum and Mount Vesuvius tour with Amalfi Taxi Driver!
[qcf]