Siena and San Gimignano Tour
This day excursion is designed for those wish to enjoy the highlights of Siena and San Gimignano .
You will be greeted at the Port of Livorno before making your way to the town of Siena and visit The Duomo lies in a piazza above the Piazza del Campo, a great Gothic building filled with treasures by Pisano, Donatello and Michelangelo as well as frescoes by Pinturicchio.
The exterior of the cat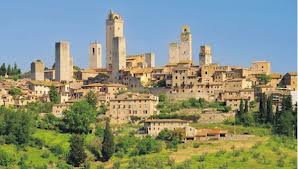 hedral is pretty impressive, and if you don't have a lot of time in Siena, you might not even go inside and just enjoy the outside. Built between 1215 and 1263 on the site of an earlier structure, the cathedral is in the form of a Latin cross with a slight projecting dome and bell tower. The exterior and interiors are decorated in white and greenish-black marble in alternating stripes, black and white being the symbolic colors of Siena.
San Gimignano, a small walled village about halfway between Florence and Siena, is famous for its medieval architecture and towers that rise above of all the surrounding buildings offering an impressive view of the city from the surrounding valley.
At the height of its glory, San Gimignano's patrician families had built around 72 tower-houses as symbols of their wealth and power. Although only 14 have survived, San Gimignano still retains its feudal atmosphere and appearance.
Recognized as a UNESCO World Heritage Site since 1990, San Gimignano offers visitors the chance to step back in time while enjoying its local products including saffron and its white wine, the Vernaccia di San Gimignano.
Book now your Siena and San Gimignano tour with Amalfi Taxi Driver!
[qcf]